Freeline Design Are Your Supplier For Ayrshire Bathrooms
If it's time for a new bathroom, you're in the right place. Freeline Design are well established bathroom fitters in Ayrshire. In July 2005 we launched our bathroom range which has grown to become a large division of the company. We have customers from all over Ayrshire: Ayr, Irvine, Troon, Kilmarnock, Prestwick, Largs, Beith, Ardrossan, Crosshouse, Cumnock, Dalry, Dundonald, Fenwick, Kilwinning, Saltcoats, Stevenston, Stewarton, West Kilbride and surrounding areas!
When it comes to crafting stunning bathrooms in Ayr and throughout Ayrshire, Freeline Design are your trusted partners. Our bathroom showroom in Ayrshire are the perfect place to explore the latest bathroom trends, and high quality fixtures. As a leading bathroom fitter for Ayrshire, we're committed to delivering excellence in every project, ensuring your dream bathroom vision becomes a reality.
Our bathroom showroom in Irvine, Ayrshire has a great range of different bathrooms suites, including wet rooms. Come and visit us and you'll find everything you need for a new bathroom – from Baths, Shower Enclosures & Trays, Wall Hung Basins, Bathroom Suites and Taps & Showers.
Our Bathroom Products in Ayrshire
Freeline Design is your premier bathroom showroom in Ayrshire, with over 13 years of expertise in delivering top-notch bathroom, wet room, and shower room installations, along with plumbing services. Our skilled team of plumbers, bathroom installers, and tradespeople provides professional and welcoming services at competitive rates. Freeline is your one-stop solution for designing, providing, and installing your customized bathroom. Our installation services encompass plumbing, carpentry, tiling, plastering, and electrical work, all certified for your peace of mind.
We believe in service, design and quality, helping you create a new bathroom which is unique to both you and your home at an affordable price. The products on our website cover only a small selection of what we can supply and install.
Ayrshire Bathrooms to Suit Every Budget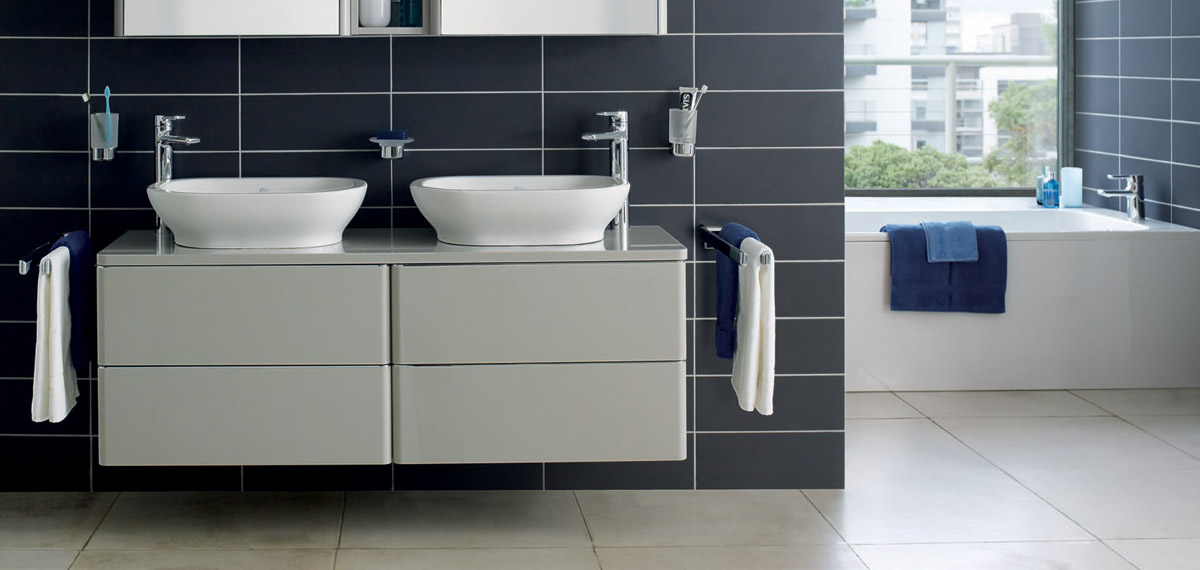 Adding a new bathroom suite can increase the value of your property. We offer a variety of contemporary, modern and traditional bathrooms. Visit our kitchen showroom, call 01294 277 557 to arrange a home design quotation or book an appointment using the link below. We cover Glasgow and the whole of Ayrshire including Irvine, Ayr, Kilmarnock.
We're proud of how our bathroom suites oose luxury. Explore our exquisite range of Ayrshire bathroom suites that cater to your style preferences, whether you lean more towards contemporary elegance, modern minimalism, or timeless traditional designs. Our selection of bathroom suites in Ayrshire are crafted to elevate both the functionality and aesthetics of your space.
Beyond bathrooms, our expertise extends to kitchens in Ayrshire as well. We invite you to visit our stunning showroom, where you can witness firsthand the artistry and quality that define our products. Contact the team at Freeline Design Ayrshire today, and help us turn your vision into reality.
For your new bathroom, you can also schedule an appointment that suits you using the link below. Let us enhance your property's value and your living experience with our exceptional Ayrshire bathroom and kitchen solutions.
Book An Appointment
Stunning Ayrshire Bathrooms
At Freeline Design Ayrshire, we believe that your new bathroom should be a sanctuary – a space where you can relax, unwind, and truly pamper yourself. That's why we're proud to offer a range of stunning bathroom designs and installations to customers in Irvine & Ayr.
Whether you're looking to renovate your existing bathroom, or have a brand new one installed, our team of experienced designers and installers are on hand to help. We understand that many clients have very individual preferences when it comes to getting their dream bathroom just right, and that's why our team work closely with you to gain a full understanding of your unique needs, preferences, and budget to create a bathroom that perfectly matches your style, and most importantly, exceeds your expectations.
Book An Appointment
Our Process
Our simple process helps you every step of the way towards making the right choice of bathroom for you and your home.
Get in Touch
Visit our showroom to see the quality of our bathroom products and have a chat with us about what you would like. Or call us to arrange a home visit and let us talk through what we can offer you and see how you can get your dream bathroom at an ideal price.
Free Survey, Quote & Design
We will conduct a FREE survey and discuss your wish-list and requirements. We will provide a no obligation quotation and a 3D drawing to help you visualise your dream room from all angles. This will help you visualise the potential of your space.
Installation & After Sales care
Our experienced team of bathroom fitters will try to minimise disruption and mess and insure any essential services are fitted in a timely manner. Installations are personally managed on-site and we offer comprehensive after care.
FAQs
What is the average cost of a bathroom renovation in Ayrshire?
The cost of a bathroom renovation can vary depending on factors such as the size of the bathroom, the materials used, and the complexity of the project. At Freeline Design, we offer bespoke bathroom design and installation services to suit every budget.


How long does a bathroom renovation take in Ayrshire?
The time it takes to complete a bathroom renovation can vary depending on the scope of the project. A simple renovation can take a few weeks, while a more complex project may take several months. Our team will work with you to create a realistic timeline and keep you informed throughout the process.


Can Freeline Design design a bathroom in Ayrshire to suit my unique needs?
Absolutely! At Freeline Design, we believe that every bathroom should be tailored to the individual needs and preferences of the homeowner. We'll work with you to create a bespoke design that perfectly matches your style and requirements.


What materials do you use for Ayrshire bathroom renovations?
We use high-quality materials for all of our bathroom renovations, including fixtures, fittings, and tiles. We work with trusted suppliers to source the best materials for your project, ensuring a long-lasting and durable finish.


Do you offer a warranty on your Ayrshire bathroom installations?
Yes, we offer a 12-month warranty on all of our bathroom installations. This gives you peace of mind knowing that your bathroom is protected against any defects or issues that may arise after the installation is complete.


Can you work with my existing bathroom layout?
Yes, we can work with your existing bathroom layout or create a new layout that better suits your needs. Our team of experienced designers and installers will work with you to create a bathroom design that maximizes space and functionality.


Do you offer financing options for Ayrshire bathroom renovations?
Yes, we offer financing options to help make your bathroom renovation more affordable. Contact us to learn more about our financing options and to see if you qualify.
Book an Appointment
To arrange a no obligation home design quotation or visit our showroom please complete our contact form.
Book Now